A welcome return to Salisbury by the internationally renowned Gesualdo Six.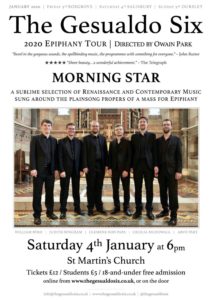 A sublime collection of Renaissance and Contemporary music sung around the Plainsong Propers of a Mass for Epiphany.  Includes music by William Byrd, Judith Bingham, Clemens non Papa, Cecilia McDowall and Arvo Pärt.
See www.thegesualdosix.co.uk for more information about the performers.
Date/Time
4 January 2020 - 6:00 pm
Location
St Martin's Church
Ticket Prices:
£12, £5 students, 18-and-under free admission
Tickets available from:
www.thegesualdosix.co.uk or on the door
Member
Event Contact



www.thegesualdosix.co.uk