St John Singers: Folk Songs and Sacred Choral Favourites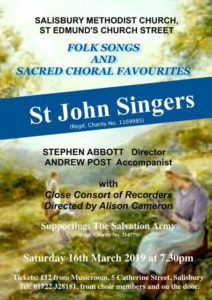 Folk Songs and Sacred Choral Favourites is in Salisbury Methodist Church in St Edmund's Church Street on Saturday 16th March at 7.30pm. Our guest performers will be the Close Consort of Recorders directed by Alison Cameron.
The folk songs will include Chilcott's arrangement of the Londonderry Air,  Linden Lea, and Loch Lomond, while the anthems include Gardiner's Evening Hymn and Wesley's stirring Blessed be the God and Father. The Methodist church is particularly warm and comfortable and, to match this, we are including home made cakes and coffee/tea in the interval, rather than our usual, warming wine. It will be a lovely evening, ending at about 9.30pm.
Partnership Charity: The Salvation Army
For this and future events see www.stjohnsingers.org/events.

Date/Time
16 March 2019 - 7:30 pm - 9:30 pm
Location
Salisbury Methodist Church
Ticket Prices:
£12
Tickets available from:
Musicroom, 5 Catherine Street, Salisbury. SP1 2DF, or from choir members
Member
Event Contact
Jill Horsburgh

01725 514899
www.stjohnsingers.org