SMS Choral Concert – Haydn and Vivaldi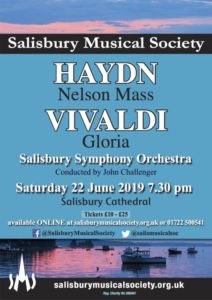 Soloists are:
Margaret Ravalde (soprano)
Emma Lewis (mezzo-soprano)
Ruairi Bowen (tenor)
Niall Anderson (bass)
with the Salisbury Symphony Orchestra
conducted by the Cathedral's Assistant Director Music John Challenger.
Haydn's Mass for Troubled Times (the Nelson Mass) was first performed on the day that news reached Vienna of Nelson's defeat of Napoleon at the Battle of the Nile in 1798.

Vivaldi's famous Gloria (one of several settings) was written in Venice, probably around 1715.
Date/Time
22 June 2019 - 7:30 pm
Location
Salisbury Cathedral
Ticket Prices:
£25, £20, £15, £10
Tickets available from:
www.salisburymusicalsociety.org.uk or on the door
Member
Event Contact
Sue Blyth
sue_blyth@ntlworld.com
01722 500541
www.salisburymusicalsociety.org.uk